And Danny Gordon Art Have Teamed Up to Provide An Amazing Art Badge Experience! "Children continue to use his methods of drawing long after Danny has left the workshop!"

G. Stanley - Norman Schools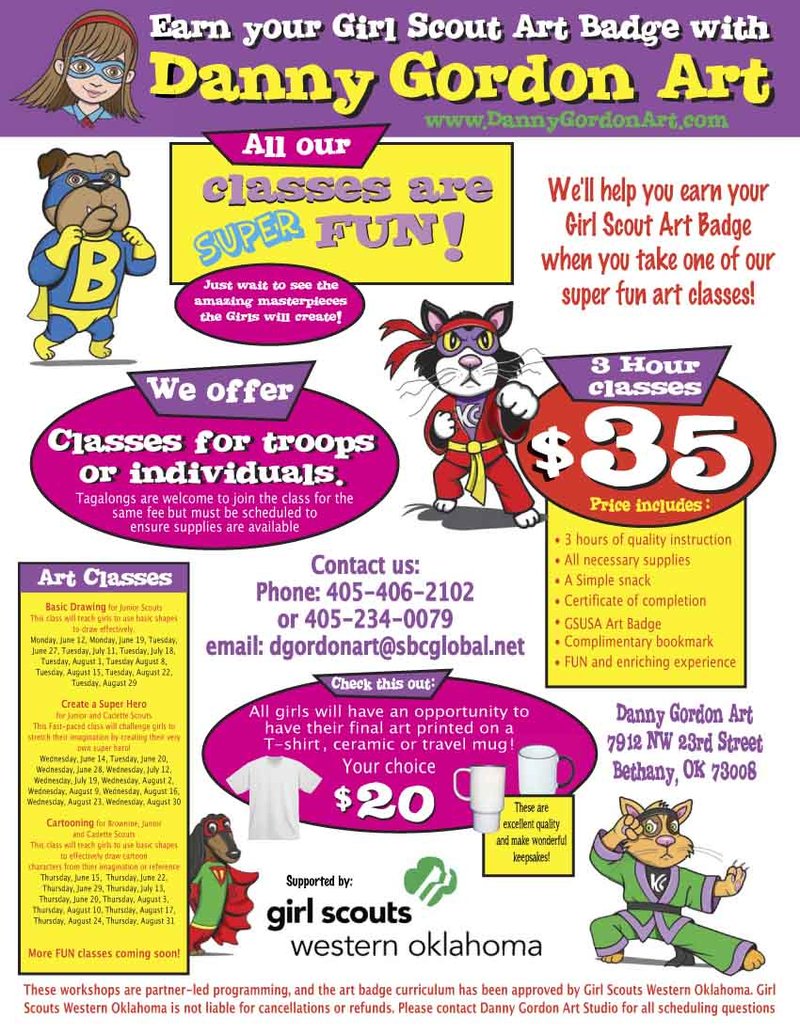 Don't Take Our Word For It! Testimonials from Educators that Have Participated in Danny's Workshops:



"A lot of my kids now want to go out and buy art supplies to try and create work of their own." A. Wilson

"At our class time with Danny, it was interactive and fun. He is so positive about the kids work."


"I

feel like my students who were unsure about their drawing abilities felt successful." - Anonymous in Moore



"

I

have seen Danny twice now while at Truman and each time the kids have been encouraged and entertained." A Wilson
Danny Gordon Art Workshops meet all badge requirements and include all
supplies. Tagalongs are welcome but must be scheduled so all needed supplies
will be available. Workshop prices are $35.00 for a 3 hour class.
Basic Drawing


for Junior Scouts
This class will teach girls to use basic shapes to draw effectively. They will also learn
about shading, composition and one-point perspective.
Create a Super Hero
for Junior and Cadette Scouts
This Fast-paced class will challenge girls to stretch their imagination
by creating their very own super hero! They must also determine the following
details based on a checklist that will be provided: Hero's real name, logo, backstory,
personality traits, super power(s) and nemesis. If time permits, a sidekick for
your hero can be designed.
Cartooning
for Brownie, Junior


and Cadette Scouts
Girls will dive into the world of cartoons with professional
artist and cartoonist, Danny Gordon! They will learn to use basic shapes to
effectively draw cartoon characters from their imagination or by using reference
materials. Once their amazing character is designed, they will then be challenged to
develop a story line which will be put into a story board along with their character.
Look for more classes coming soon!
These workshops are partner-led programming, and the art badge curriculum has been approved by Girl Scouts of Western Oklahoma. Girl Scouts of Western Oklahoma is no liable for cancellations or refunds. Please contact Danny Gordon Art Studio for all rescheduling questions.